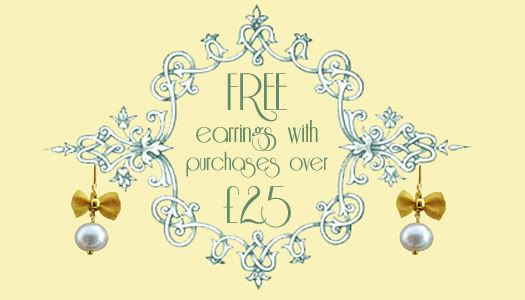 You may or may not be aware that pennymasquerade.com has been closed for the past week while it received a complete makeover. It was relaunched on Thursday evening and is now an all-singing, all-dancing website ready to enthrall all who visit. Ok so I'm being melodramatic, it probably won't enthrall you, but if you'd like to take a look at the new website, feel free:
www.pennymasquerade.com
To celebrate the relaunch, a free pair of Cutie Pie bow earrings will be given away with all orders of £25 or over. I hope the offer is of use to some of you and hope you like the new website! If you have any feedback or if there are any features you'd like to see on the website don't hesitate to leave a comment. All constructive feedback will be greatly appreciated.
Don't forget the Penny Masquerade April Giveaway will be going live on the blog later this afternoon. For your chance to win a piece of Penny Masquerade jewellery, all you have to do is leave a comment in response to the giveaway post. Extra entries will be given to people who follow Penny Masquerade on twitter, like the facebook page, follow the blog and/or join the mailing list. Easy peasy.